Maserati Munich virtual Tour
The Virtual Tour for Maserati Munich underlines the possibilities and impact of our Virtual Tours. For the Managing Director of SZD Sportwagen Zentrum GmbH Germany, Mr. Florian Ketterle, the added value of the virtual tour is also an emotionalizing tool for his marketing activities.
MASERATI MUNICH VIRTUAL TOUR
The perfect blend of luxury and sport combined with Italian temper – discover Maserati Munich on a virtual tour.
A showroom for car enthusiasts and people with petrol in their blood. The virtual tour offers the opportunity to explore the various models uninhibitedly and at your leisure. The Maserati showroom on Moosacher Strasse, near the Olympiapark and OEZ Munich shows all models of the luxury manufacturer. From the famous Quattroporte to the Gran Cabrio. We are pleased to present you this unique showroom.
VIRTUALLY ACCESSIBLE AT 92 PANORAMIC POINTS
The Maserati Munich showroom is now virtually accessible at 92 panoramic points (360 degree photos). Some panoramic points offer different perspectives. With VR glasses, you get the feeling as if you were on site. Our unique technology provides a photorealistic, virtual experience.
#2

THE SHOWROOM OF MASERATI
PERFECT PREPARATION FOR A PERFECT

DIGITAL EXPERIENCE
In times of virtual and augmented reality, the Customer Journey begins with our virtual 3D tour with a love of detail.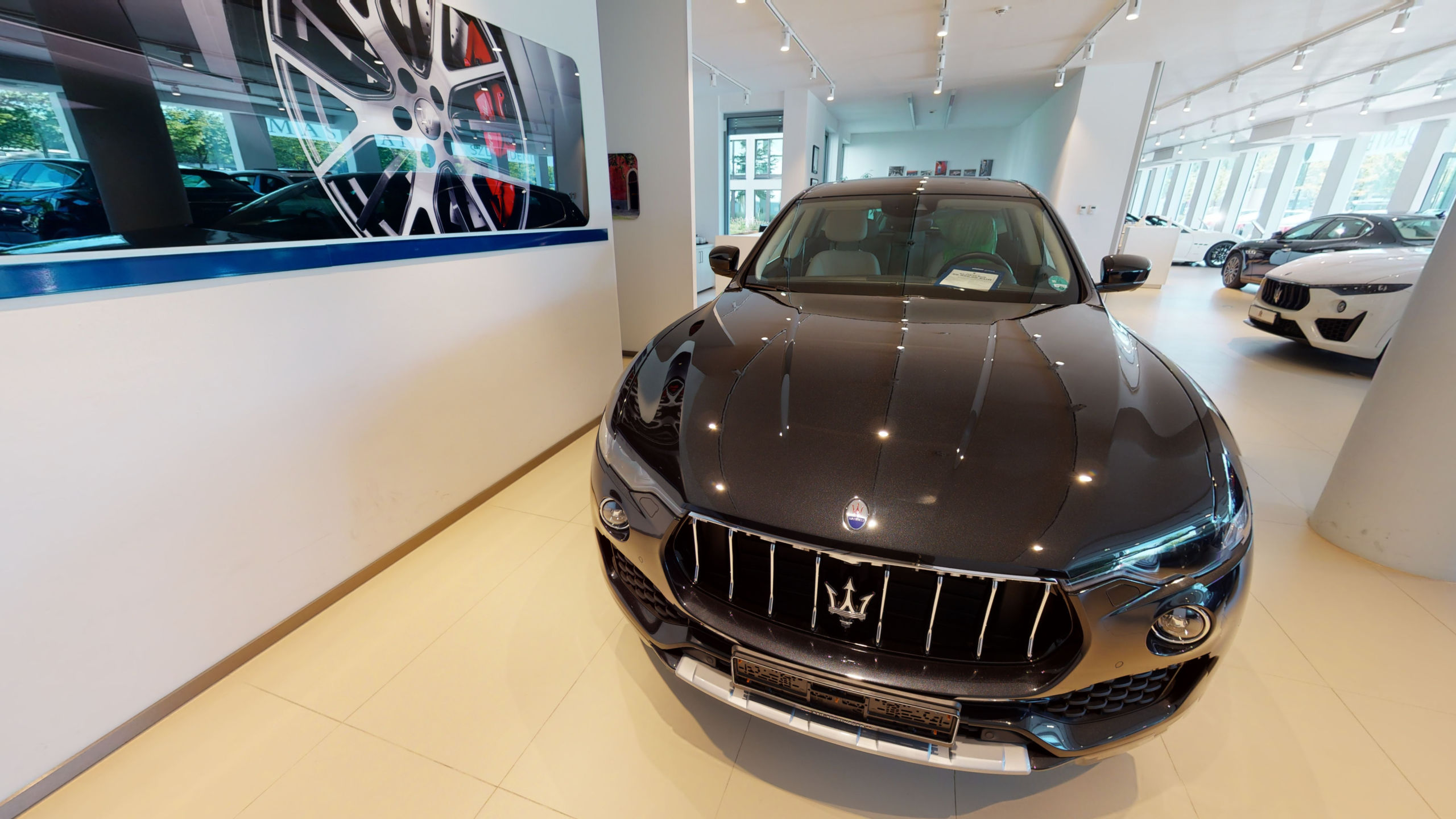 #3 

MASERATI VIRTUAL EXPERIENCE by
GOOGLE STREET VIEW
As a Google Street View Trusted certified company, we integrate the Virtual 3D Tour into the Google Company Profile for our customers, so that it is visible on Google Street View and Google Maps. The integration by us also completes your Google company entry and increases your visibility on the Internet.
#4

 Google Earth 3D Animationen
Using our Google Earth 3D data, we can digitally depict entire cities for intro videos.
See more information here.
Our 3D Model serves a unique way to get an overview, like a virtual dollhouse.
Unique photorealistic way to discover Objects, Properties, mall and any place else.
Take measurements for scheduling your event-space
…Dont let technology pass by. It changes faster than you can even think of or imagine.
