Mercedes Benz Oldtimer Munich virtual Tour
Virtual tour of the
Mercedes Benz
Classics garage in Gauting near Munich. This is where the old- and youngtimers from Mercedes Benz are repaired and restored. Get an insight into the classic car garage of Mercedes Benz Classics near Munich.
MERCEDES BENZ CLASSIC MUNICH VIRTUAL TOUR
Experience classic cars and youngtimers in a virtual tour.
A workshop for real enthusiasts. Some of the vehicles are more familiar from old Al Capone movies. Here in the Classics workshop of Mercedes Benz in the Munich suburb of Gauting, true treasures are maintained and repaired. We are very pleased to present this unique car workshop in a virtual tour. The mixture of zeitgeist and tradition pays off.
Accessible at 86 panoramic points
The car workshop is now accessible at 86 panoramic points (360 degree photos). At some points you even get the perspective of the mechanic working there. Under the car or the direct view to the engine. With VR-glasses you even get the feeling of being there. Our unique technology ensures a realistic experience.
#2

MERCEDES BENZ OLDTIMER VIRTUAL TOUR
DETAILED preparation of the 3D tour
With an eye for detail, Mercedes Benz Classics provides the perfect virtual experience in a 3D Virtual tour.
Empty car bodies, disassembled engines, the view of a mechanic under the car, and much more.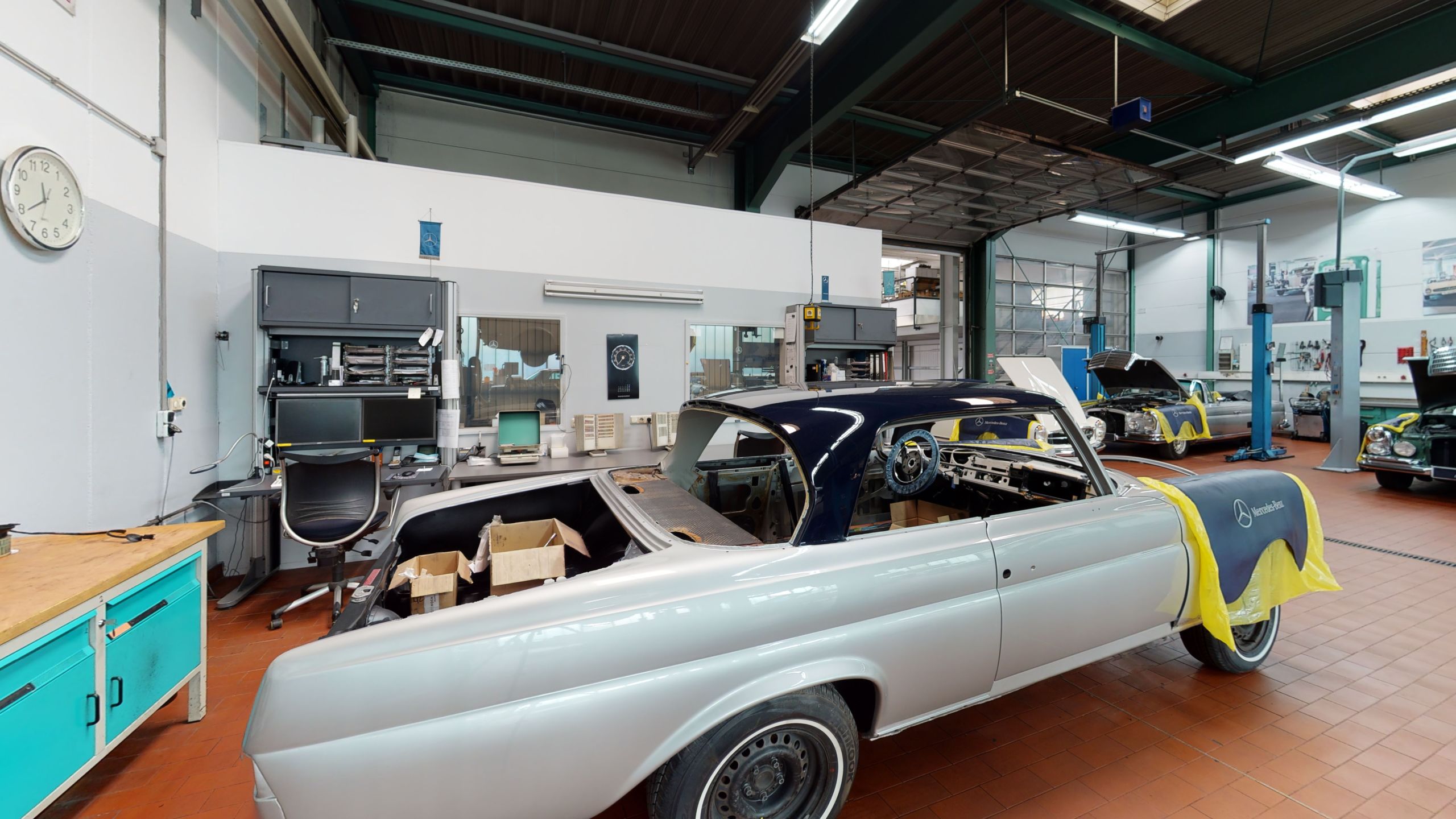 #3

Mercedes Benz Classicś virtual tour at Google Street View
As a Google Street View Trusted certified company, we integrate the Virtual 3D Tour into the Google Company Profile for our customers, so that it is visible on Google Street View and Google Maps. The integration by us also completes your Google company entry and increases your visibility on the Internet.
#4

GOOGLE EARTH 3D ANIMATIONS
We got access for Google Earth data. Now we're able animate the world or your city in 3D.
Our 3D Model serves a unique way to get an overview, like a virtual dollhouse.
Unique photorealistic way to discover Objects, Properties, mall and any place else.
Take measurements for scheduling your event-space
…Dont let technology pass by. It changes faster than you can even think of or imagine.
