ROOCK PORSCHE MOTORWORLD COLOGNE VIRTUAL TOUR
Motorworld Cologne Virtual Tour. Experience Motorworld Cologne and Roock Porsche at Motorworld Cologne in the Virtual Tour. Not only in our virtual experience, but also free of charge at the Motorworld in Cologne. They offer true treasures to motor sports and automobile enthusiasts.
Roock Porsche Motorworld Cologne Virtual Tour
From vintage cars, Lamborghini, Bentley and Porsche to the private collection of Michael Schuhmachers, Ferrari Formula 1 cars – Motorworld Cologne offers so much for people with petrol in their veins.
The world of motorsport experience is accessible free of charge and, in addition to restaurants, the V8 hotel as well as a number of exclusive dealerships, also offers opportunities for events and conferences.
Roock Porsche
Some fans of motorized sports will be familiar with the name Fabian Roock. As a former race driver of the Porsche Carrera GT Cup, as well as winner of the famous Le Mans race, Fabian Roock offers exclusive Porsche models at Motorworld Cologne. Also the car of his winning race at the Porsche GT Cup.
START THE MOTORWORLD COLOGNE VIRTUAL TOUR
ACCESSIBLE at 161 panorama points
The Motorworld Cologne is now accessible at 161 panoramic points (360 degree photos). At some points you even get the perspective of race-drivers. Under the car or the direct view to the engine. With VR-Glasses you even get the feeling as if you were on site. Our unique technology ensures a realistic experience.
#2

 THE EXPERIENCE OF ROCK PORSCHE AT THE MOTORWORLD
Loving preparation of the 3D tour
With an eye for detail, Fabian Roock ensures the perfect virtual experience in a 3D tour.
From the current Porsche model to the racing car, as well as the former Formula 1 car of the vehicle legend Senner, the tour offers the absolute experience.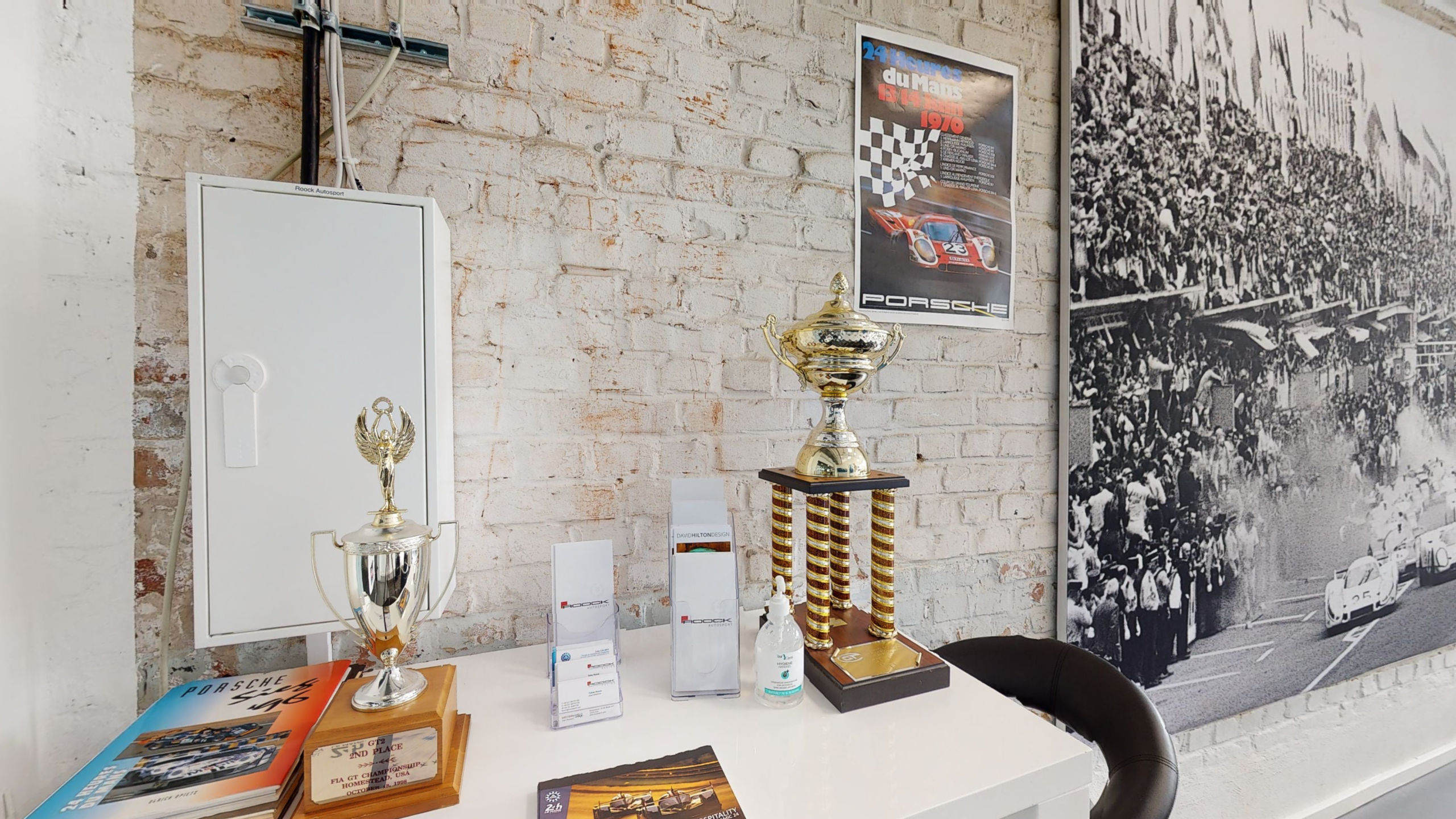 #3

ROOCK PORSCHE VIRTUAL TOUR BY Google Street View
As a Google Street View Trusted certified company, we integrate the Virtual 3D Tour into the Google Company Profile for our customers, so that it is visible on Google Street View and Google Maps. The integration by us also completes your Google business entry and increases your visibility on the Internet.
#4

 THE INCREDIBLE HISTORY ROOCK PORSCHE
ROOCK is regarded as the most successful Porsche customer team of the 1990s and went from victory to victory of the brands cups. The Stuttgart sports car manufacturer as well as in the FIA GT World Championship.
1995:
WINNER ADAC GT-Cup, Porsche 911 GT2
1994:
Champion European Porsche Supercup
Winner ADAC GT-CupSieger "1000 km von Interlagos", Porsche 911 RSR
1993:
Winner German Porsche Carrera Cup
Winner "1000 km von Suzuka", Porsche 911 RSR
1992:
2nd German Porsche Carrera Cup
Winner "24 Stunden von Spa-Francorchamps", Porsche 911 RS
1991:
10th German Porsche Carrera Cup
1990:
Foundation of ROOCK Racing,
5th Porsche Carrera Cup
2001

:


2nd, American Le Mans Series – LMP 675
Debut in this category
2000

:


2nd place, American Le Mans Series – Porsche GT2
First full season of ROOCK Racing in the American Le Mans Series
1999

:


Winner, 24h von Daytona – Porsche GT2
1998

:


2nd , FIA GT WM GT2
3nd place, of class GT2, 24h of Le Mans, Porsche 911 GT2
1997:
Vice World Champion FIA GT-WM (GT2)
Winner 24 hours Daytona, Porsche 911 GT2
2nd. und 3rd. of class GT2, 24 Stunden von Le Mans, Porsche 911 GT2
1996

:


World Champion FIA GT-WM (GT2)
Vice World Champion FIA GT-WM (Overall Ranking)
Winner of class GT2, 24 hours of Le Mans, Porsche 911 GT2
#5

 GOOGLE EARTH 3D ANIMATIONS
We have access to Google Earth data. Now we are able to animate the world or your city in 3D.
Our 3D model offers a unique opportunity to get an overview, like a virtual dollhouse.
Unique photorealistic way to discover objects, features, shopping mall and any other location.
Take measurements for the planning of your event location
#WE ARE LOOKING FORWARD

 TO YOUR PROJECT
…Dont let technology pass by. It changes faster than you can even think of or imagine.
