Phuket Thai Hua Museum | Virtual Tours Thailand 
The Virtual Tour of Phuket Thai Hua Museum, in Phuket Old Town, Thailand, underlines the possibilities and impact of our Virtual Tours. The former Chinese private school in Phuket Old Town serves a huge history of the Thai-Chinese culture and history. Discover parts of the history in our 360degree virtual tours with our added values, in-display-contents, and more to get more informations about the Museum itself.
Phuket Thai Hua Museum Virtual Tours CoNCEPT
The legendary museum, is surely one of the most recognized museum in Phuket Old Town, which lets you discover about the history between China and Thailand. Our holistic concept serves two Options. Enter parts of the Museum virtually for free or discover the full history by a little donation – now to experience in the virtual tour.
The special in-display-contents serve lots of valuable informations to increase the virtual visitors interest. We are pleased to present you this unique Museum experience, combined with our Thai collaborators: ThaiDirectory.
The Virtual Tour of the Phuket Thai Hua Museum is password protected. To get access by a voucher as a donation, please.
VIRTUALLY ACCESSIBLE AT 350 PANORAMA POINTS
The Phuket Thai Hua Museum includes 2 Stories, garden and way to the street. Now virtually accessible at 350 panoramic points (360-degree photos). Some panorama points offer different perspectives. With VR glasses, you get the feeling as if you were on site. Our unique technology provides a photorealistic, virtual experience.
#2 EXPERIENCE THE PHUKET Thai hua MUSEUM in Phuket OLD TOWn
PERFECT PREPARATION FOR A PERFECT DIGITAL EXPERIENCE
In times of virtual and augmented reality, the customer journey begins with our virtual 3D tour.
Please look also after MORE REFERENCES IN PHUKET
We also created a virtual tour experience for
Karon Sea Sands Hotel, Phuket, Thailand.
Starz Rooftop Bar, Karon Beach, Phuket, Thailand.
Merlin Divers Phuket, Thailand.
Cyan Resort Kamala Beach, Thailand
Gantu Studio 88, Phuket Old Town, Thailand.
as some of our References for Virtual Tours within Phuket, Thailand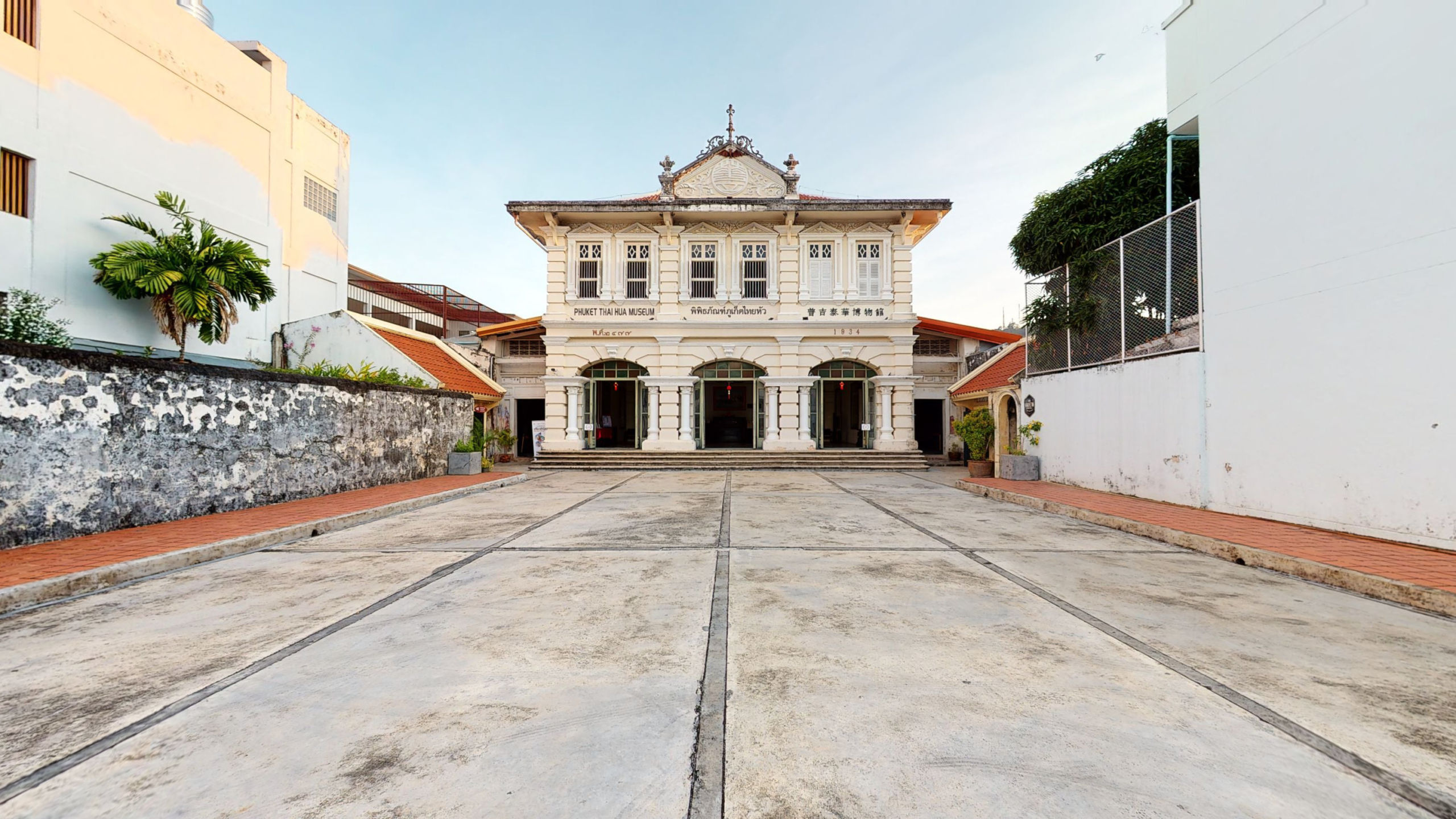 #3 PHUKET Thai hua MUSEUM VIRTUAL EXPERIENCE WITH
GOOGLE STREET VIEW
As a Google Street View Trusted certified company, we integrate the Virtual 3D Tour into the Google Company Profile for our customers, so that it is visible on Google Street View and Google Maps. The integration by us also completes your Google company entry and increases your visibility on the Internet.
#4 

Google Earth 3D Animationen
Using our Google Earth 3D data, we can digitally depict entire cities for intro videos. See more information here.
Our 3D model offers a unique opportunity to get an overview, like a virtual dollhouse.
Unique photorealistic way to discover objects, features, shopping mall and any other location.
Take measurements for the planning of your event location
#WE ARE LOOKING FORWARD TO

 YOUR PROJECT
…Dont let technology pass by. It changes faster than you can even think of or imagine.
