Steinway & Sons Virtual Tour
Steinway & Sons is an exclusive manufacturer of grand and upright pianos. The company was founded by Heinrich Engelhard Steinway and his sons in 1853 in New York City. Since then Steinway & Sons has successfully registered more than 125 patents. Now the first branch became virtually accessible.
Virtual tour Steinway & Sons
With the implementation of the virtual tour at Steinway & Sons on Munich's Maximiliansplatz, the premium manufacturer of upright and grand pianos is offering a unique opportunity to look around. Ideal for enthusiasts or prospective customers who do not live nearby. Mostly, however, the prospective customers do not notice that the branch has a cellar where other fine upright and grand pianos are located.
Tradition & exclusivity meets modern marketing
Steinway & Sons reserves the right to serve only the most exclusive customers with their products. The price for a piano starts at 36.000€. Founded in New York, Steinway & Sons has stood for culture, tradition and exclusivity for over 170 years. Interesting from our point of view is that culture & tradition paired with modern marketing are not contradictory.
Virtual tours for Retailers
This example shows the possibilities and diversity of virtual 3D tours. Especially the possibility to display information on the individual pianos and grand pianos provides an enormous added value. It is also a great experience for interested parties to be able to move freely around the products. With our technology, products or objects are not displayed distorted. This is an enormous advantage for virtual tours, especially for high-quality and luxury goods.
#

2

THE SHOWROOM OF Steinway & Sons
PERFECT PREPARATION FOR A PERFECT DIGITAL EXPERIENCE
In times of virtual and augmented reality, the Customer Journey begins with our virtual 3D tour with a love of detail.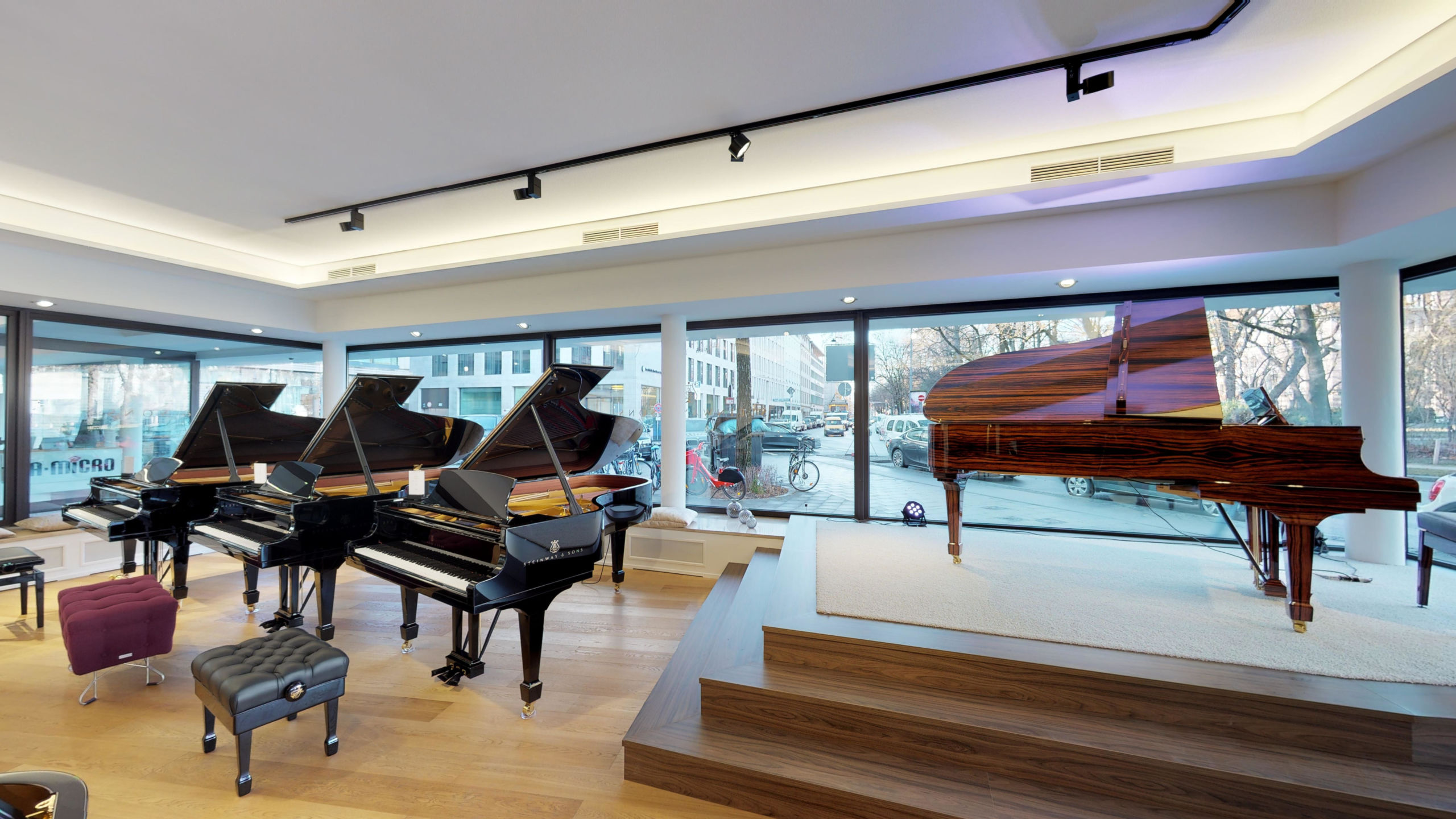 #

3

Steinway & Sons Munich on a virtual tour with Google Street View
As a Google Street View Trusted certified company, we integrate the Virtual 3D Tour into the Google Company Profile for our customers, so that it is visible on Google Street View and Google Maps. The integration by us also completes your Google company entry and increases your visibility on the Internet.
#4

Google Earth 3D AnimationS
Using our Google Earth 3D data, we can digitally depict entire cities for intro videos.
See more information here.
Our 3D Model serves a unique way to get an overview, like a virtual dollhouse.
Unique photorealistic way to discover Objects, Properties, mall and any place else.
Take measurements for scheduling your event-space
…Dont let technology pass by. It changes faster than you can even think of or imagine.

#WE ARE LOOKING FORWARD

 TO your PROJECT