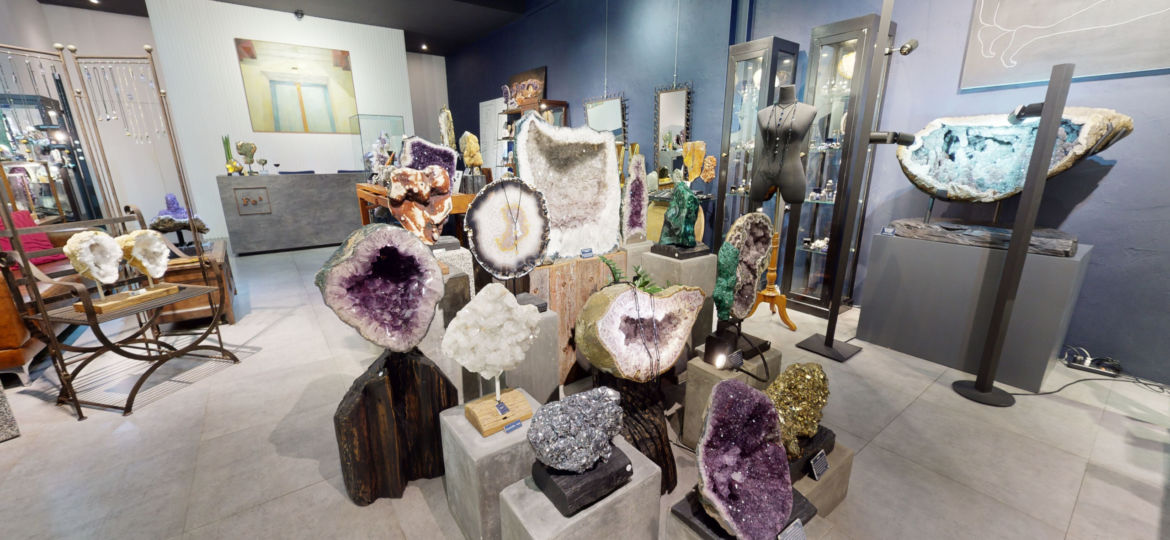 Fe2 Crystals Porto De Phuket VIRTUAL TOUR
Fe2 Crystals Porto De Phuket virtual tour. Experience the passionate retail store near Boat Avenue in Phuket via virtual tour. Virtual or on-site, at Fe2 Crystals you will find sparkling treasures made from 100% unique and natural crystals.
Fe2 Crystals Porto De Phuket vIRTUAL TOUR
Crystals are not only sparkling decoration, but also affect the well-being. Photographing the crystals is incredibly complicated and only with a lot of attention to detail could the tour be transformed into a virtual experience. In addition: The integration of the tour in the Google company account ensures increased visibility.
Virtual SHOPPING Experience
The Virtual Shopping Experience combines the experiential world of a Virtual Tour with e-commerce capabilities. Unlike traditional e-commerce, you can now experience the store virtually, while using the Virtual Checkout to order the items you want.
START THE Fe2 Crystals Porto De Phuket VIRTUAL TOUR
ACCESSIBLE AT 62 PANORAMIC POINTS
Fe2 Crystals can now be experienced at 62 panoramic points. With the VR glasses, you even have the feeling of being on site. Our unique technology ensures a realistic experience.
#2

 THE VIRTUAL EXPERIENCE OF Fe2 Crystals in phuket
DETAIL LOVING PREPARATION OF THE 3D TOUR
With great attention to detail, owner Efi provides the perfect virtual experience in a 3D tour. Starting with the history, the setup of the light positioning and much more.
#3

Fe2 Crystals VIRTUAL TOUR BY Google Street View
As a Google Street View Trusted certified company, we integrate the 3D virtual tour for our customers into the Google company profile, so that it is visible in Google Street View and Google Maps. The integration by us also completes your Google company listing and increases your visibility on the Internet.
#5

 GOOGLE EARTH 3D ANIMATIONS
We have access to Google Earth data. Now we are able to animate the world or your city in 3D.
Our 3D model offers a unique way to get an overview, like a virtual dollhouse.
Unique photorealistic way to discover objects, shopping mall and any other place.
Take measurements for planning your event.
#WE ARE LOOKING FORWARD

 TO YOUR PROJECT
…Dont let technology pass by. It changes faster than you can even think of or imagine.
