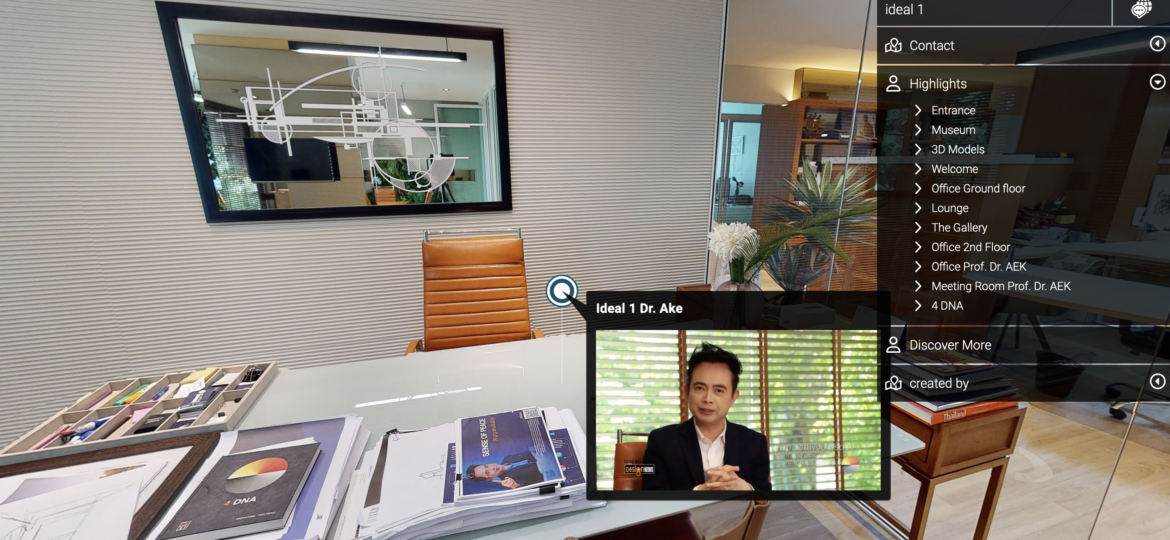 Ideal 1 Architectural Company Bangkok virtual tour | 360INT
The Virtual Tour of Ideal 1 Architectural Company Bangkok virtual tour, Thailand, underlines the possibilities and impact of our Virtual Tours. Specially for Architectural companies our services for creating true virtual experiences can be a true big point in their Marketing strategy.
IDEAL 1 Bangkok Virtual Tour
The legendary architectural Designs and projects of Ideal 1 became state of the Art in Thailand and will grow over to overseas.
But how can a virtual tour experience, Display the showcases of an Architectural office?
Our Virtual Tours transform anything done from first scratch scribble and 3D renderings in a full-experienceable virtual space, created as a digital twin, to showcase to anyone worldwide, that a vision became true.
VIRTUALLY ACCESSIBLE AT 165 PANORAMA POINTS
The Office of Ideal 1 Company in Bangkok serves 2 Stories, from Welcome area, Museum, Offices and more. Now virtually accessible at 165 panoramic points (360-degree photos). Some panorama points offer different perspectives. With VR glasses, you get the feeling as if you were on site. Our unique technology provides a photorealistic, virtual experience.
#2 EXPERIENCE THE ARCHITECTS OFFICE OF IDEAL1
PERFECT PREPARATION FOR A PERFECT DIGITAL EXPERIENCE
In times of virtual and augmented reality, the customer journey begins with our virtual 3D tour.
Please look also after MORE REFERENCES IN PHUKET
We also created a virtual tour experience for
Karon Sea Sands Hotel, Phuket, Thailand.
Starz Rooftop Bar, Karon Beach, Phuket, Thailand.
Merlin Divers Phuket, Thailand.
Cyan Resort Kamala Beach, Thailand
Gantu Studio 88, Phuket Old Town, Thailand.
as some of our References for Virtual Tours within Phuket, Thailand
Our 3D model offers a unique opportunity to get an overview, like a virtual dollhouse.
Unique photorealistic way to discover objects, features, shopping mall and any other location.
Take measurements for the planning of your event location
#WE ARE LOOKING FORWARD TO

 YOUR PROJECT
…Dont let technology pass by. It changes faster than you can even think of or imagine.
