get virtually accessible by 
GOOGLE STREET VIEW
 & VIRTUAL TOURS!
360INT servers the worlds largest network of Google Street View Trusted Photographers, as well as Virtual Tours.
We create the 3D customer experience with the virtual tour for your company.
The 3D customer experience: Virtual tours offer your customers new possibilities when it comes to experiencing and already virtually getting to know you and your company. By opening your virtual doors with a 360-degree tour, you make it easier for yourself to build relationships with your target group. Whether hotel, bar, office or museum – 3D tours not only convey the visual appearance of your company. With the possibility of interactive content, you can capture the soul of your business at the same time in the 3D tour – so that your visitors feel like visiting you during the virtual tour through your premises.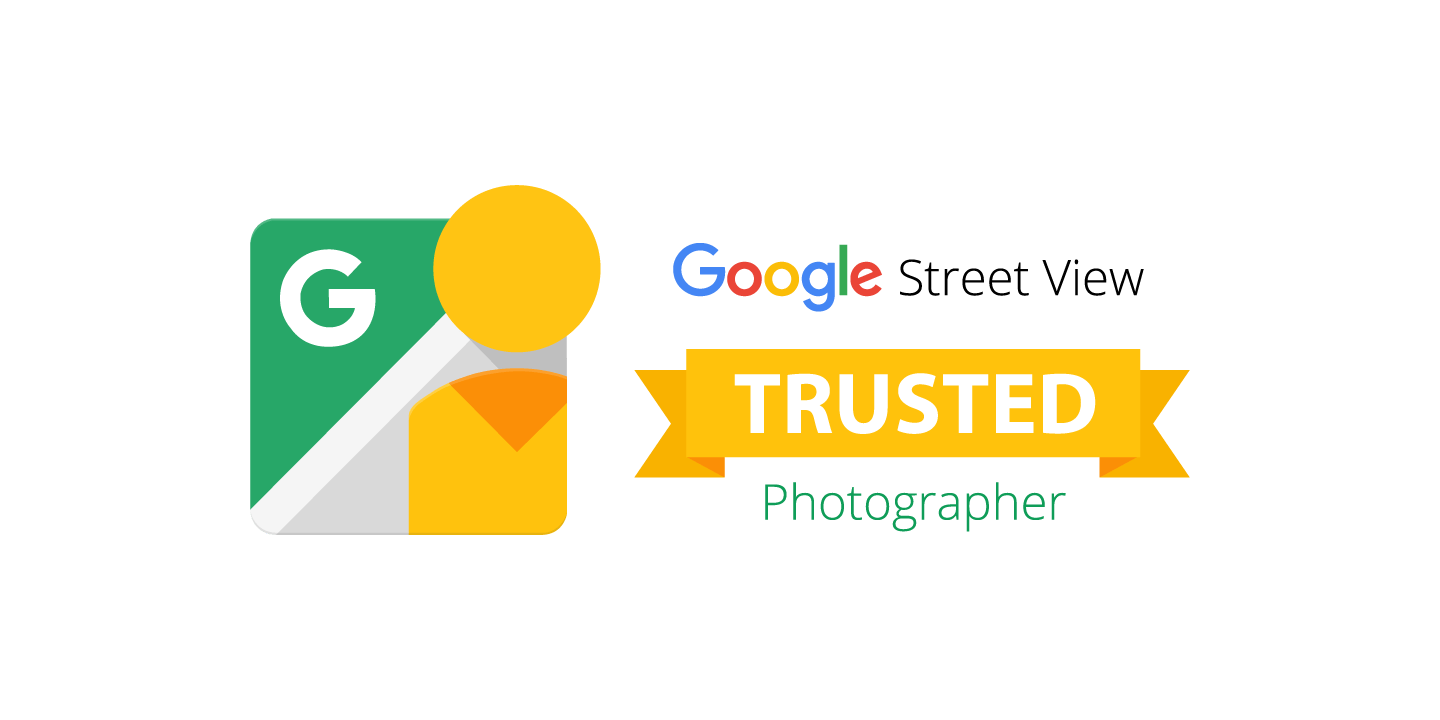 Virtual Reality (VR) is the upcoming marketing tool. The term describes an artificial reality generated by high-quality technology. A camera designed for immersive experiences consisting out of 6 lenses and 3 infrared laser scanners capture your room or environment piece by piece in pictures including units of measurement. With the assistance of special software, these individual elements grow together and form a holistic 3D image. Use this promising technology to make your business virtually accessible!
We at 360INT are your VR partner, working together with the most successful search engine – Google. For you this means: Your virtual tours for companies are certified by and for Google Street View. Therefore we can integrate the virtual tour into your Google company profile. Think beyond the boundaries of the two-dimensional and enter a new level of marketing with 360° tours!
WORLDWIDE Trusted BY GOOGLE STREET VIEW
Google Street View is the perfect representation of your premises on Google Maps. Now available for Business representation.
NEWS & INFOS ABOUT VIRTUAL TOURS
Google, Guides, Virtual Reality and more, by 360INT.
EXPERIENCE A VIRTUAL 3D TOUR!
You ask yourself, what your 360 degree tour could look like? Among the references you will find a multitude of projects from different industries on three different continents that already use VR successfully.
TIMERIDE – TIME TRAVEL IN VR
TIMERIDE MUNICH – invites its guests on a virtual journey through time The Virtual Tours for the respective locations, for example, TimeRide offers interested parties with the virtual tour an exciting exploration tour over several floors of the location. The user encounters interactive points that provide interesting facts about the museum program without revealing too much. At the same time, additional information on the range of products on offer, opening hours and call-to-actions can be found. The visitor thus has the feeling of being on site.
RA CHRISTIAN SOLMECKE – PARTNER OF THE LAW FIRM WBS –
has become a true fan of our 3D customer experience and has even shot a whole YouTube video about it. The virtual tour of the law office WBS Cologne also cleverly exploits the possibilities of virtual reality. Info-Points provide the user with helpful information on advice and links to the YouTube channel, as well as introducing the partner lawyers via video. Let yourself be inspired by our diverse examples and experiences!
MARETKINGTOOL FOR  

YOUR LOCATION
Discoverers gonna discover. From Home or Live.
Virtual Tour or Virtual reality, first.
Our Virtual Tours will serve and ensure the perfect experience for your
Customer Journey.
Find the worlds best locations in Virtual Reality.
THE VIRTUAL TOUR 

EXPERIENCE
The user navigates himself/herself through your premises and goes on an exciting journey of discovery, for example by using info points, so-called call-to-action buttons. To ensure that your virtual presentation scores maximum points with your prospects, you should know how to create a virtual 3D customer experience from your Google-certified 360-degree tour.
Virtual tours offer a variety of possibilities:
Integration of the tour with Google Maps

Integration in social media platforms

Introduce yourself and your employees on the tour via video

Holistic concept of virtual experiences tailored to you

Start your customer journey via Google Earth already in space

We will gladly find individual solutions for your virtual customer experience
Beautiful places got nothing to hide.
Show what you got and let your customer or guest
start the experience with you, from home and anywhere else.
360 DEGREE GOOGLE BUSINESS VIEW ON INTERNATIONAL PARQUET
Virtual reality is on the step forward. Be part of the future today.
Become part of a global network and show your company in 360 degrees. The Google Business View provides you with a coherent Internet presence. Everyone is searching – especially on Google. Take advantage of this opportunity and set yourself and your company apart from the competition. By giving your customers the chance to get a perfect impression via 360° Business View at home – no matter where they are in the world. As a VR provider you represent yourself with international reach. Visitors from all over the world experience you and your company via a virtual tour crowned with interactive content in an impressive journey of discovery.
For example, let your prospective customers feel the beach feeling, even if they visit you online, many kilometres away from your beach resort, via VR tour.
WE ARE LOOKING FORWARD TO

YOUR PROJECT